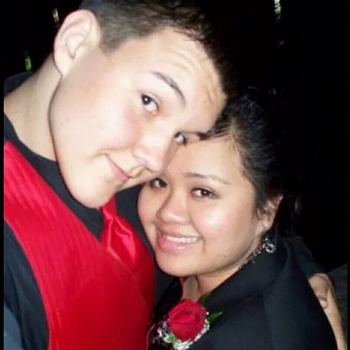 Ben and I met at a mutual friend's (Adriana's) house to take photos before the Homecoming dance of 2008. I initially thought that he had a date (matching colors were a thing back then!) so I didn't approach him.

When we arrived at the school dance, our group immediately hit the dance floor sans Ben. The DJ played a streak of upbeat songs and it was honestly great that our group was able to dance in one big circle.

Then, our friend Eleni noticed that Ben was doing such a great job being a wallflower, and urged him to dance. It finally dawned on me that he went stag, and I assumed incorrectly. 15 seconds into dancing, she turns to me and says, "I feel like I'm dancing with my brother, do you want to dance with him?" - yes, yes I did. 

I've had my fair share of awkward dances, but the moment I started dancing with Ben, I felt secured- it wasn't awkward nor was it strange. He was such a gentleman and kept a foot distance between us the whole time. The DJ then decided to slow things down and the intro to 'All My Life' by K-Ci and JoJo started playing,so naturally, everyone scattered off. I turned to Ben and jokingly said, "Eleni was my slow dance partner, but I don't know where she went".  I sincerely couldn't see where everyone else went, and at that very moment, it felt like time stood still, and all I could see was Ben. 5 seconds felt like 5 minutes, then all of a sudden Ben reached for my hand, and asked if I wanted to dance.

I wanted to put my heels back on because of the height difference (4'11 to 6'0) but he was such a gentleman that he didn't mind slouching so I wouldn't have to dance in pain. I put my hands on the nape of his neck, and swayed to the beat of the song.

If you have heard the song, All My Life, the chorus goes:

'And all my life I've prayed for someone like you
And I thank God that I, that I finally found you
All my life I've prayed for someone like you
And I hope that you feel the same way too'


I rested my head on his chest and butterflies swarmed my stomach as we danced. I didn't mind, because although I'm not sure if he knew then, I definitely did. 

xoxo

Abby 




p.s. the photo is from my Senior Prom*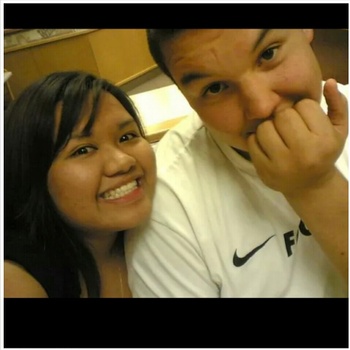 With careful planning and the help of our amazing friends, I asked Abby to be my girlfriend when the clock struck midnight on her 16th birthday.

Thank God she said yes.

-Ben

p.s. This was our first photo together as a newly minted couple, taken at Jonamac Orchard.
10/10. Our first port on the cruise was St. Maarten; the sky was clear, the sea breeze was just perfect, and butterflies fluttered all over the island. Ben and I had an ATV excursion planned at noon but we woke up early to get in some beach time. We walked along the shore taking in the warm Caribbean sun talking about how excited we were to go on this ATV adventure to see both the Dutch and French side of St. Maarten. We walked for awhile until we came upon a secluded area on the beach; by a big hill on the coast, right across the horizon from our cruise ship. I was a little overheated so I decided to sit on the shoreline to cool off. I sat for maybe 5 minutes facing the ocean, watching the butterflies and admiring the turquoise waters when I noticed that Ben was being very quiet. Not unusual for him, but I at least thought he would have sat next to me on the shore by then. When I turned around to see what he was up to, he pulled a slim black box out of his pocket and dropped on one knee. Me being a complete idiot, I blurted out, "are you joking?!"

He did a Ben smirk- mischief dimple on his cheek, smiled and said, "I can't keep waiting for the perfect moment to ask what I've known for almost 10 years...Will you let me be your husband?"

I threw my arms around his neck, knelt with him, tears pouring down the cheeks and uttered "of course". After he proposed, our cruise ship coincidentally sounded its horns and like clockwork, all the cars and trucks up on the hill overlooking the beach where we were, honked their horns and hollered at us. I went to vacation with my boyfriend and came home with a fiancé.